All photos by Rens van Rijn, Dennis Vink and Hermen Goud © Phodocu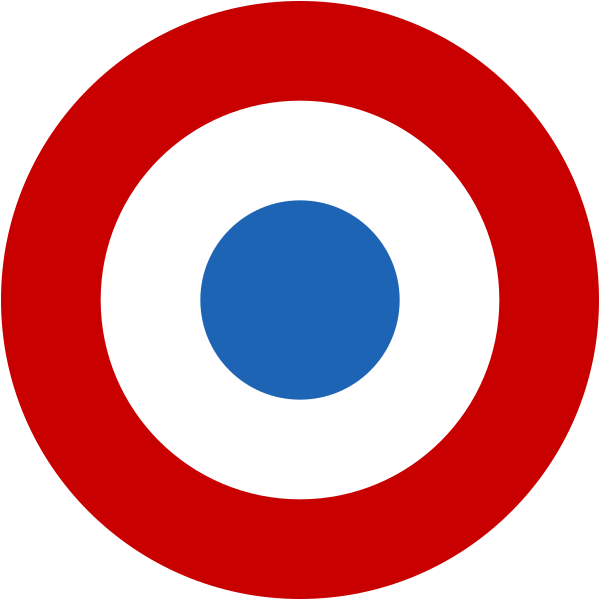 Luxeuil-Saint Sauveur Air Base in the Eastern part of France is home to Groupe de Chasse 1/2, nowadays also referred to as Escadron de Chasse 1/2; the 1st Fighter Squadron belonging to the 2nd Fighter Wing. This French Air and Space Force unit is dedicated to the Air Defense role flying the Dassault Mirage 2000-5F aircraft. Deeply rooted into French aviation history, it continues to provide air superiority in defending both mainland aerospace and the remote territories. This is an in-depth report following a visit to Base Aérienne 116 (BA116) where Phodocu was able to witness their operations up-close and had a sit-down with Squadron Commander Major Lois 'Tomé' to learn more about the unit's tasking, aircraft, history and future developments.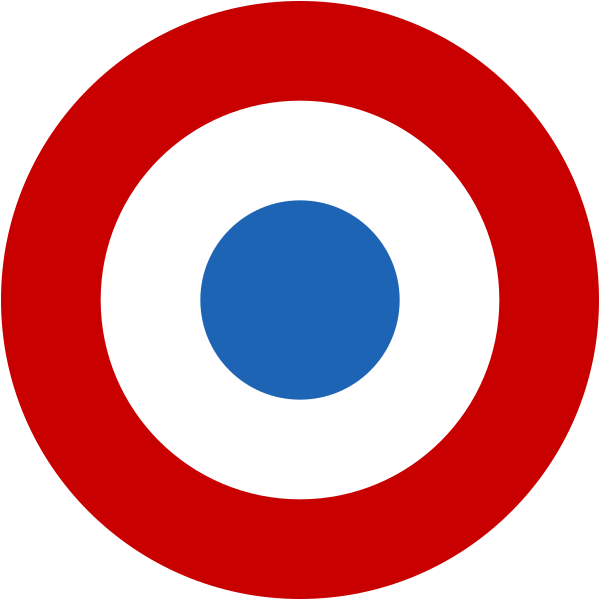 Stork heritage
Groupe de Chasse 1/2 originates from pre-World War I when in 1912 Escadrille 3 (Flight Three) was established at an Army camp near the city of Avord. Once equipped with the French-made Blériot XI aircraft, the unit moved further Northeast into the Alsace region. Locals in this area were noticing these ferry flights and referred to these as migration of storks. Thus, the nickname 'Cigognes' was given. In order to recognize aircraft from a certain flight, the Group commander ordered to apply distinct unit marking during 1916. Escadrille 3 chose a white stork with wings downwards and sister-flights were encouraged to use variations of the same bird. This resulted in the images still present in the current insignia of Groupe de Chasse 1/2 picturing three storks with different wing positions.
By 1917 escadrilles were designated as SPA; derived from the SPAD (Société Pour L'Aviation et ses Dérivés) manufactured aircraft that these units operated by that time. This designation is still used as of today and the prefix for all three escadrilles currently assigned to Escadron de Chasse 1/2; SPA3, SPA 26 and SPA 103.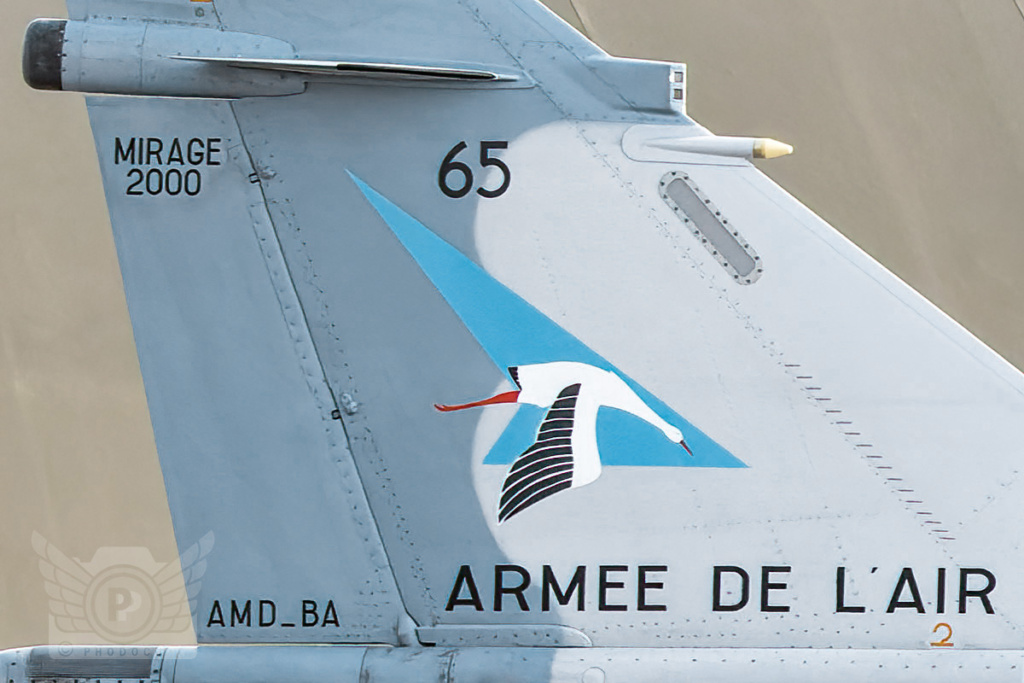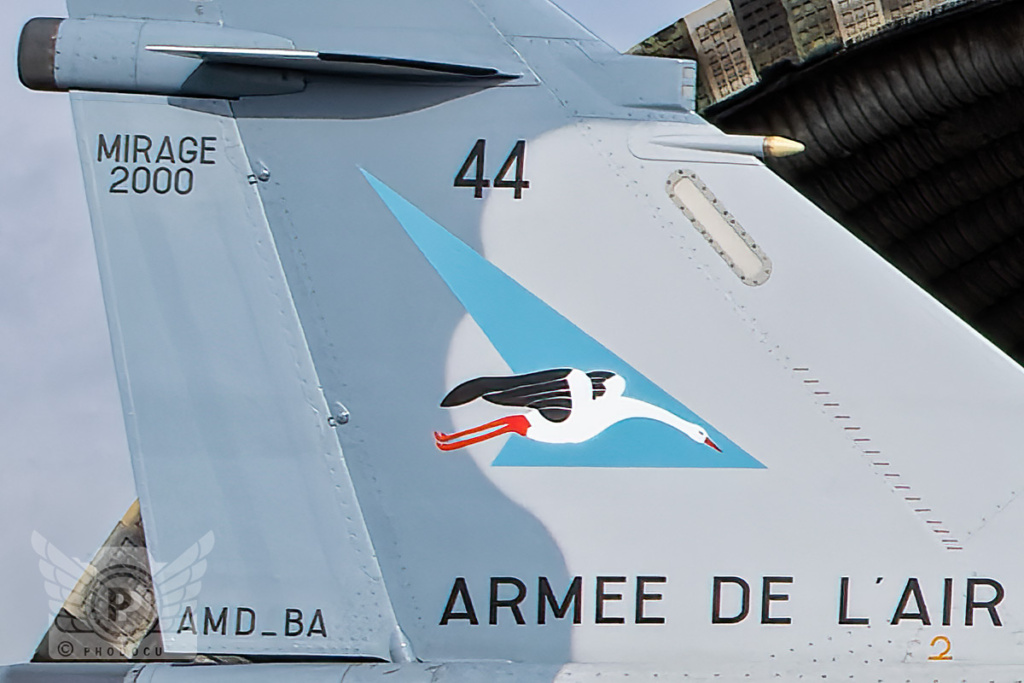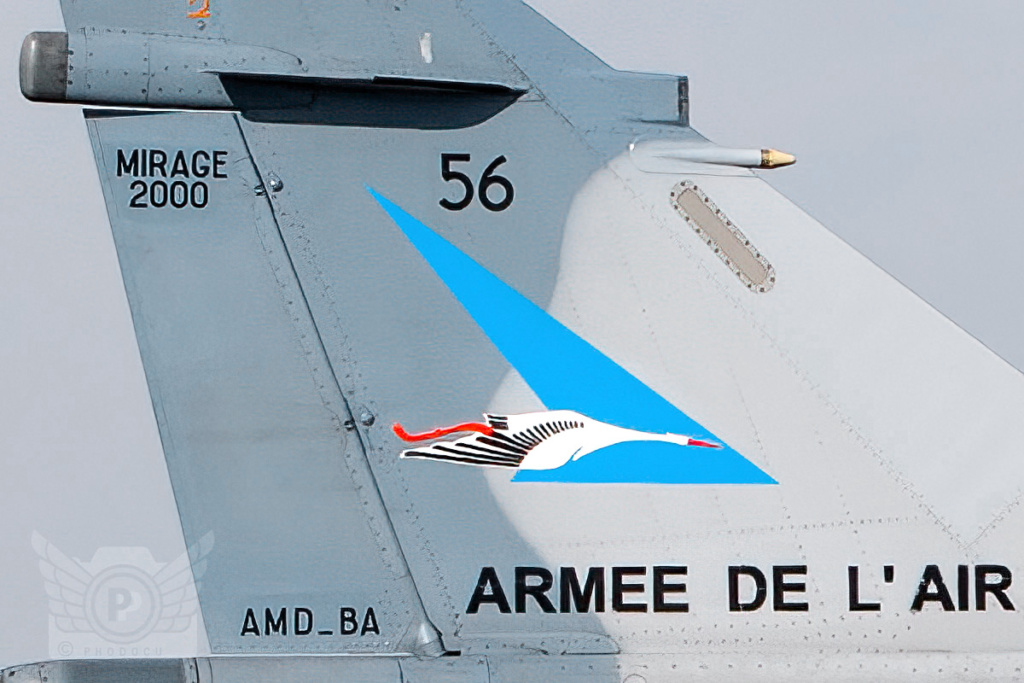 Groupe de Chasse 1/2 played a significant role during World War I and was part of the Free French Forces during World War II. While flying out of the UK, it participated in the Normandy landings on 6 June 1944 and was re-stationed in France a few months later. After two years of service in French Indochina from 1946 to 1948, the Cigognes returned to France and were given a new home at Dijon Air Base (BA102) by 1949. The unit remained here until 2012, when it relocated to its current station; Luxeuil – Saint-Sauveur Air Base.
Flashback of Cigognes' Mirage 2000-5F in action carrying the '102' code corresponding to their previous home station BA102 Dijon.
Early starter
The heritage of this unit is exactly the reason why Commander 'Tomé' chose to join the Cigognes well over a decade ago. Although military blood did not run in the family, his passion for aviation started at an early age when witnessing the aerobatics from Patrouille de France during an air show. He explains: "I started flying in a civilian aerodrome on small aircraft and had my pilot license at 15 years old. So, I was allowed to fly before driving a car!". After completing his engineering studies, he met all requirements to become an Air Force officer. When entering in 2006, Lois first spend three years with the Air Force Academy (Ecole de l'Air) at Salon de Provence Air Base (BA701) before sequentially continuing to BA709 Cognac / Châteaubernard, BA705 Tours and finally BA120 Cazaux for fighter pilot training on the Alpha Jet advanced trainer aircraft.
Commander 'Tomé' graduated in 2011 with a privileged position being able to choose the fighter aircraft and next
I was allowed to fly before driving a car!Commander 'Tomé'
destination for his career. "I wanted to go to the 1/2 Squadron here" he explains; "It is the oldest one in the Air Force and very famous because it was home to a lot of aces, for instance Georges Guynemer, René Fonck as well as Roland Garros.". These heroic combat aviators continue to be honored and remembered as their names are linked to each of Cigognes' escadrilles.
SPA 3 Cigogne 'Guynemer'
Georges Guynemer was a Captain during World War I (WWI) and by 1917 the Commander of Escadrille 3 at the age of only 22 years old. He was presumably shot down in his Spad XIII aircraft on the 11th of September 1917 near Poelkapelle (Belgium) as Guynemer never returned from his combat patrol mission. He was officially confirmed 'missing in action' by the French War Department eight days later. Nevertheless, Georges Guynemer's actions made him a French national WWI hero with 54 victories; the second highest-scoring fighter ace. His legacy lives on with the Cigognes in the current Escadrille SPA 3.
SPA 26 Cigogne 'Saint Galmier'
Although Escadrille SPA 26 is named 'Saint Galmier' after its original founding place, it is also associated with Roland Garros. He was an early aviation pioneer setting altitude records during 1911-12 and one of the first fighter pilots when joining the French Army at the outbreak of World War I (WWI). While in combat, Garros was engaged in solving technical problems; he found a challenge in timing a machine gun firing forward through a spinning propeller arc of a typical tractor configured aircraft. The action of then used guns appeared to be inconsistent, so the risk of hitting the blade remained a big factor. So instead, he developed protective wedges mounted on the propeller to deflect bullets from hitting it. Rumor has it that Garros was the first pilot shooting down an enemy aircraft by firing through a propeller on April 1st 1915.
A few weeks later, his aircraft got shot down and Garros ended up behind enemy lines where he was captured and taken hostage by the Germans. Although he managed to burn his aircraft, remainders of the propeller and gun were analyzed and put to good use by Anthony Fokker in developing a synchronization gear that would revolutionize the next chapter in dogfighting. Aiming the nose of the aircraft at your enemy and fire was much easier than aiming a gun while flying the aircraft at the same time. That technology, build into the Fokker E.I Monoplane, gave Germany the upper hand in aerial combat from July 1915 until early 1916, when Allied forces countered with more sophisticated aircraft.
After nearly three years of captivity, Garros managed to escape on 14 February 1918 and got back to France via The Netherlands and London shortly thereafter. He re-entered service with the French Army and joined the 'Cigognes' of Escadrille SPA 26 flying the SPAD XIII. Unfortunately, one day before turning 30 and a month before the end of the war, he was shot down and killed on 5 October 1918 near Vouziers in the Ardennes. Garros never reached Ace status, but nevertheless his name still lives on in various places; foremost at the 'Stade Roland Garros' tennis complex near Paris. While the whole world has eyes on the annual French Open grand slam tennis tournament here, only few know of his 'Cigogne' legacy with SPA 26.
SPA 103 Cigogne 'Fonck'
Colonel René Fonck is considered the all-time Allied Ace of Aces from World War I (WWI) with 75 confirmed victories of the 142 claimed. Remarkable fact is that he remained uninjured himself and his aircraft was hit only once. A month before turning 21, Fonck was accepted into basic flight training which he completed three months later. After a few assignments, Fonck was invited to join Groupe de Combat 12 (GC12) 'Les Cigognes' in April 1917. GC12 was the world's first actual fighter wing with four flights among which the famous Escadrille 3 with ace Georges Guynemer. However, Fonck was assigned to sister escadrille SPA 103 flying the SPAD VII. He survived WWI and his heroic actions led him to carry the flag of the French Air Force at the victory parade on the Champs-Elysées.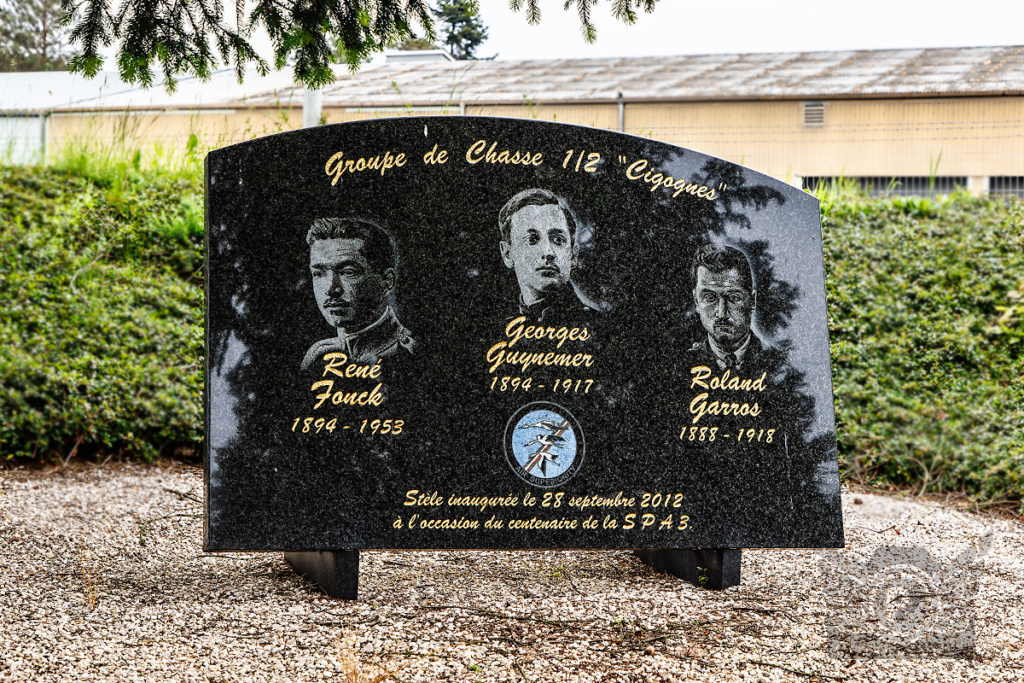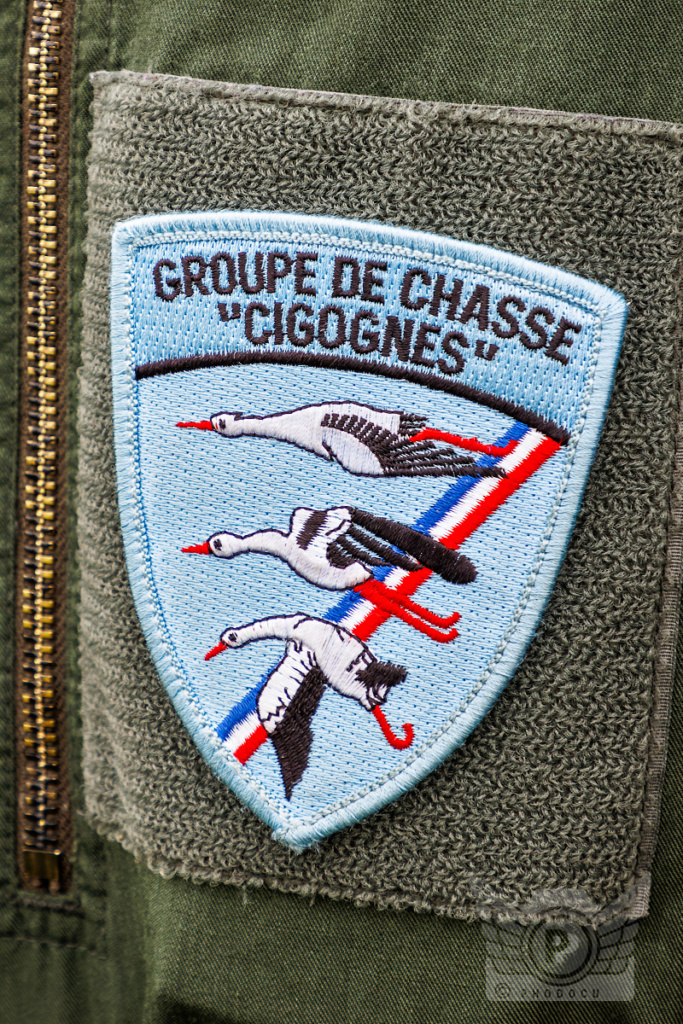 Air-to-Air experts
The Cigognes dedicated tasking is air defense and with their role to perform either defensive or offensive missions comes a great responsibility; the bottom line is that they are always on the frontline as the first unit to be called upon to ensure air superiority and safety of other assets involved. All three escadrilles at Luxeuil operate the Dassault Mirage 2000-5F, or simply called 'Dash Five' among personnel, that has only one job on its resume: air interceptor! This single-seater aircraft is an upgraded version of the Mirage 2000C of which 37 airframes were modified to -5F standard. Significant changes were a night vision-compatible glass cockpit layout with larger Multi-Functional Displays (MFDs), a dual-linked wide-angle head-up display and so-called 'Hands On Throttle And Stick' (HOTAS) controls. The Thomson-CSF (now Thales) build RDY (Radar Doppler modele Y in French), also known as Radar Doppler Multitarget (RDM) was upgraded to the second version of this radar system with enhanced capabilities; the RDY-2 has a 15% greater air-to-air range, can detect up to 24 targets and is able to simultaneously track eight threats while guiding four MICA missiles to different targets.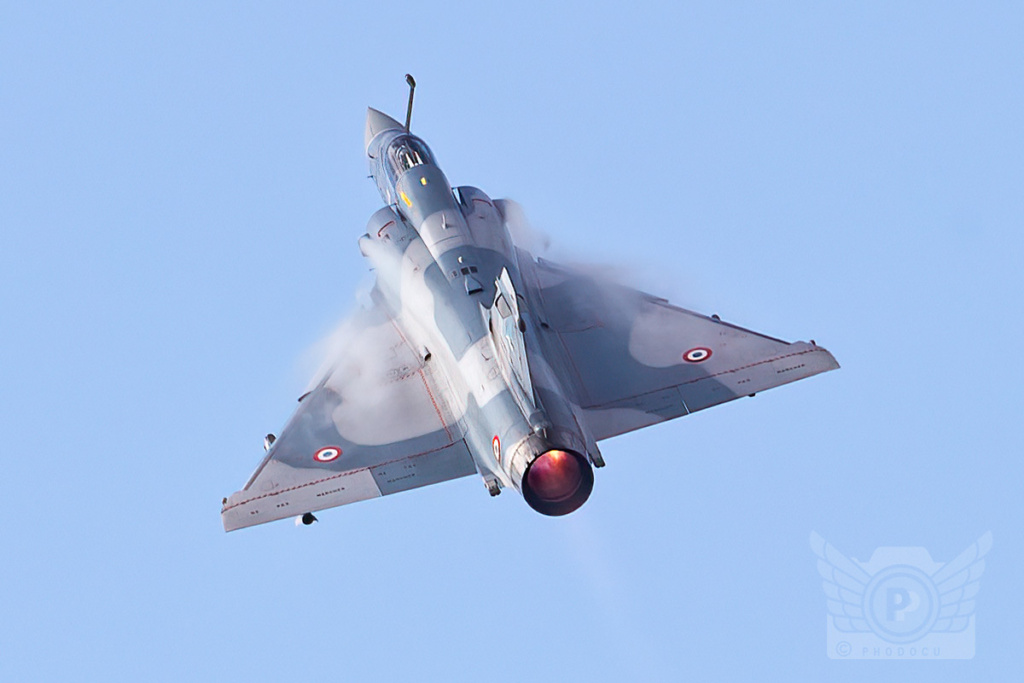 The Cigognes are using two air-to-air MICA (Missile d'Interception, de Combat et d'Auto-défense) models; the heat-seeking infrared MICA IR and active radar-guided electromagnetic MICA EM, referred to as 'Fox 2' and 'Fox 3' (NATO codenames for firing an IR [2] / EM [3] air-to-air missile) respectively. The outer pylons, station 1 and 9 underneath the Dash 5 wings are exclusively for the MICA IR, while the four fuselage hardpoints, stations 3-4-6-7, can accommodate both the MICA EM and IR in line with mission requirements. The typical QRA-configuration for the Mirage 2000-5F is four missiles, a pair of each, combined with either three external fuel tanks or just a single centerline fuel tank. The latter will allow for supersonic speeds, while the other provides more reach. Even oversized 530-gallon drop tanks, designed for the Mirage 2000N, can be installed to maximize its range and/or wing tanks can be released to increase speed.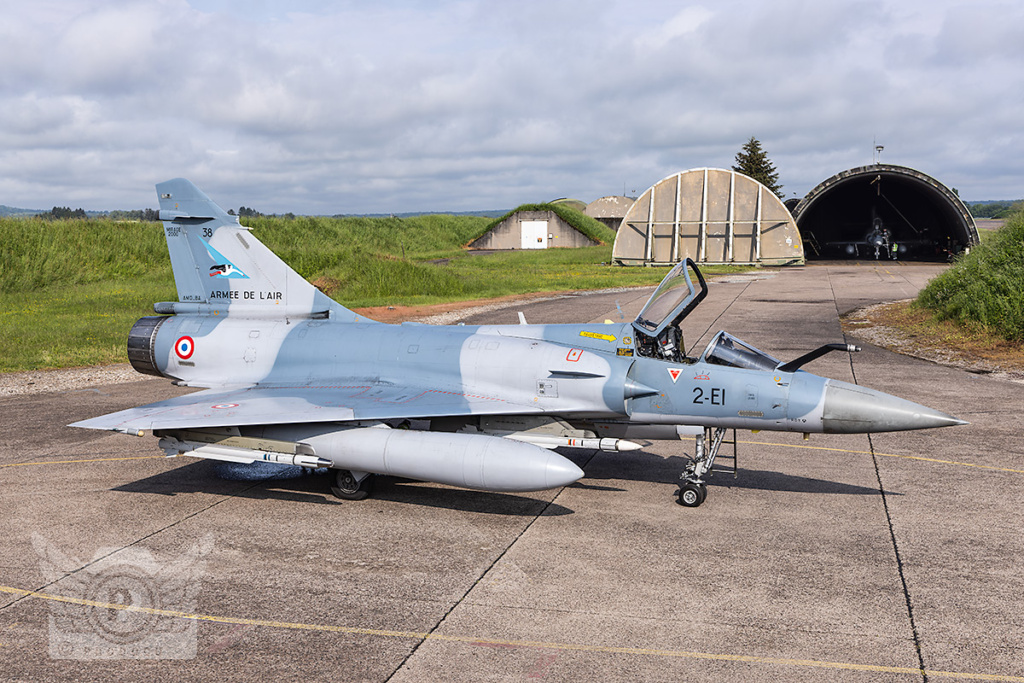 Moving around
Escadron de Chasse 1/2 has always a team on 24/7 stand-by for Quick Reaction Alert (QRA). The standard team size is eight: 2 pilots, 2 mechanics, 2 avionics technicians and 2 armament specialists. "It can be here on this air base" Commander 'Tomé' explains, "Or we can be moved from Luxeuil to Evreux, to Orange, to Istres. From times to times we have two QRA out at the same time". The Cigognes are not the only Air Force unit to support QRA, as the 3rd Fighter Wing at Mont-de-Marsan Air Base (BA118) in the South-West of France also has similar duties. These squadrons fly the Dassault Rafale, which is a multi-role fighter jet and thus need to be proficient in both air-to-air and air-to-ground type of missions. However, some pilots specialize in the air defense role.
Lois continues: "It is all coordinated thanks to the CNOA (Centre National des Opérations Aériennes / the National Air Operations Centre) in charge of the air policing over the territory. And if needed, we coordinate with the BAAC (Brigade Aérienne de l'Aviation de Chasse, the Fighter Brigade), which is in charge of the squadrons.". Once the agenda is known, the unit will contact their forward operation location to verify all necessary support is arranged for.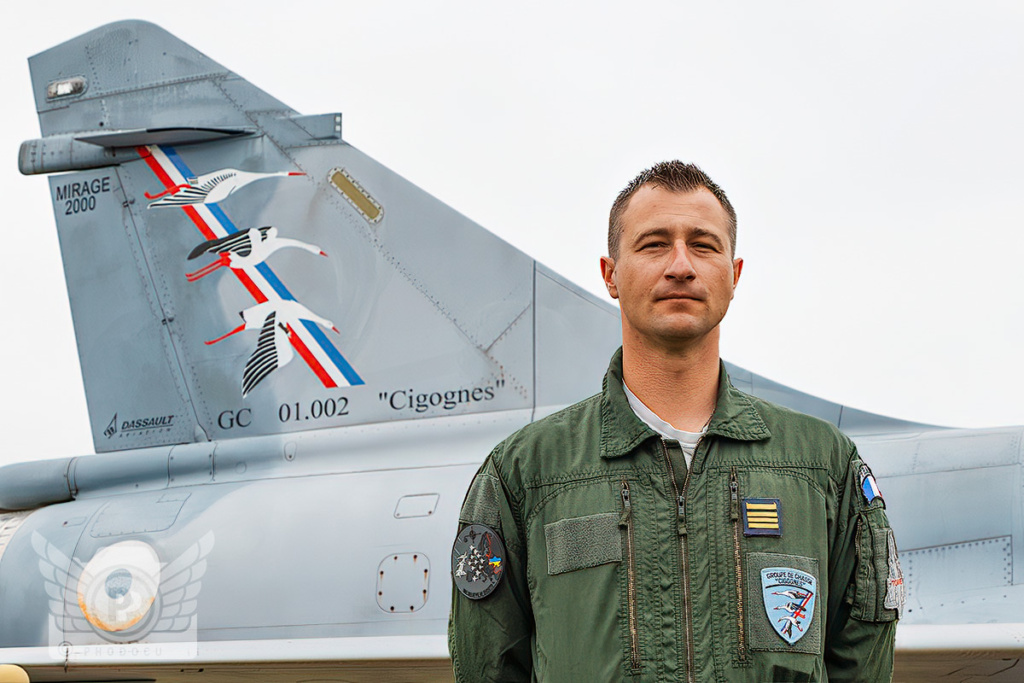 Other continues support goes out to Escadron de Chasse 3/11 nicknamed 'Corse'. It operates four Mirage 2000-5Fs out of Ambouli Air Base (BA188) in Djibouti, which remains a strategic location in the Horn of Africa. "We enforce this squadron with two pilots during a two-month period." Commander 'Tomé' adds. Personnel will rotate in and out regularly and he has been there himself quite a few times. The unit also contributes to the collective NATO Enhanced Air Policing mission. Back in 2014, this measurement was installed to secure allied airspace over the Baltic States after Russia's annexation of the Crimean Peninsula. Lois has been to both Lithuania and Estonia a number of times to patrol and act on possible airspace violations. His last 3-month deployment here was during the summer of 2022, acting as the Detachment Commander.
Daily OPS
In order to maintain and update their craft, a training routine is essential according to Commander 'Tomé': "Our daily training is coordinated with the Saint-Dizier Air Base (BA113) with the Rafale squadron there; we play a lot with them. The area where we train is the 'TSA (Temporary Segregated Airspace) 200′, which is roughly 10 minutes away from Luxeuil Air Base. We meet inside this area and it's very close from all these bases. We have Nancy (BA133) as well, which is not so far.". Alternatively, they also use the TSA 43, which is in the middle of France over the 'Massif Central' near Clermont-Ferrand and Bergerac. A perfect accessible central location where most inland units (fighters, transport etc.) participate in combined training routines from time to time.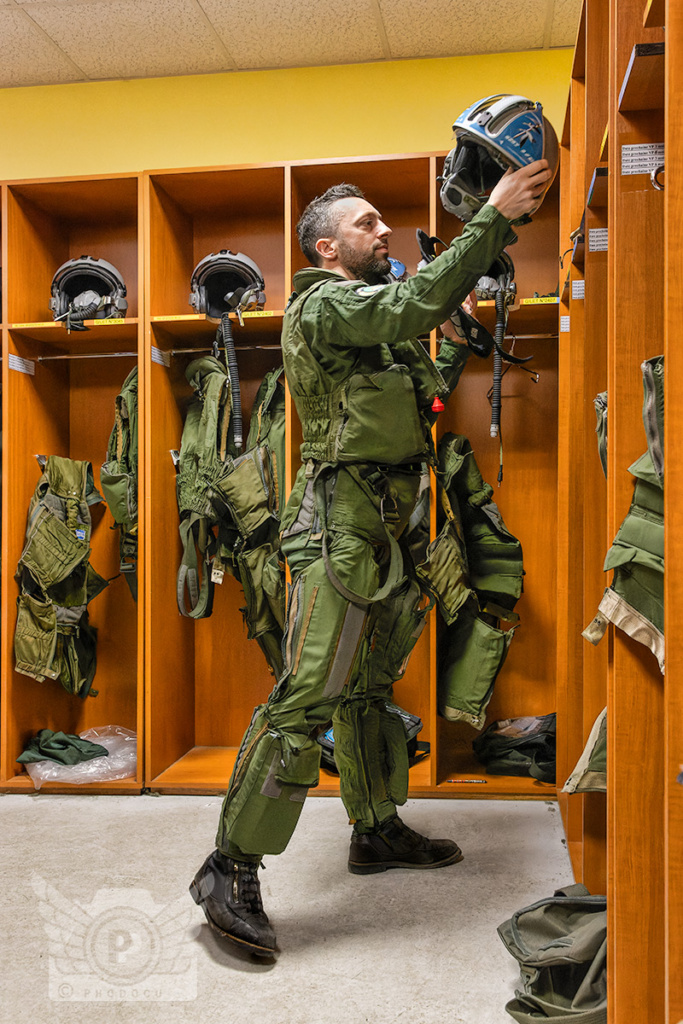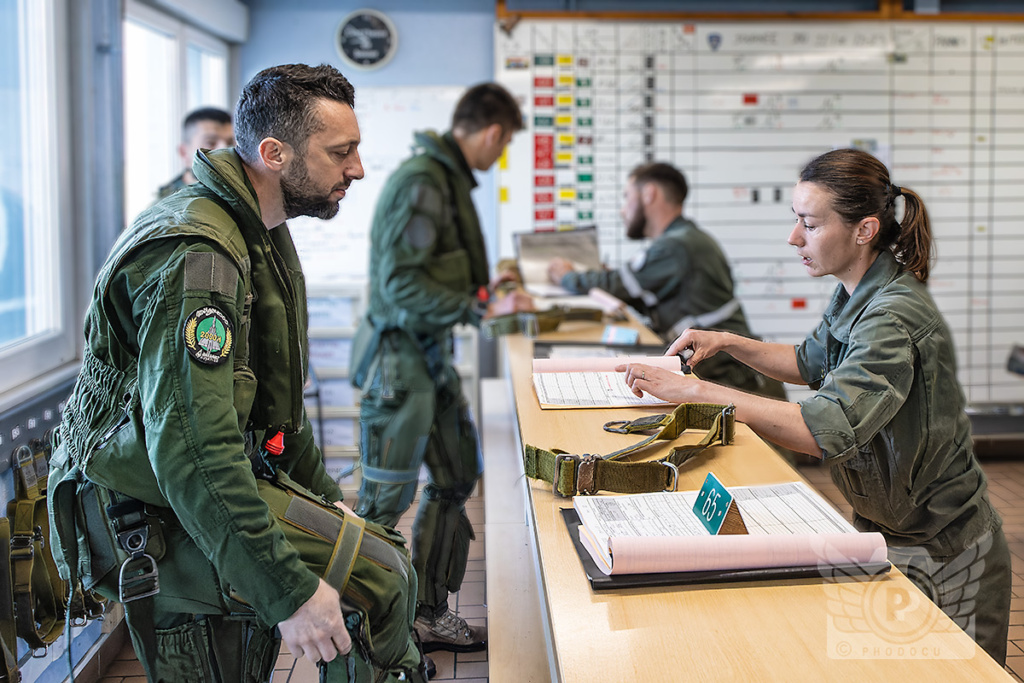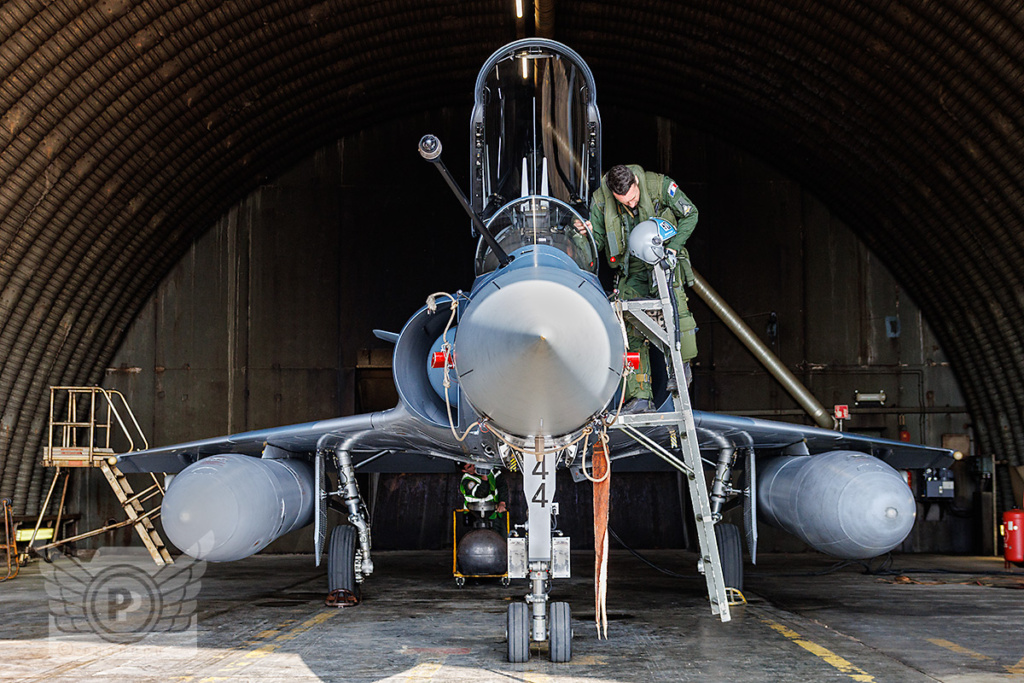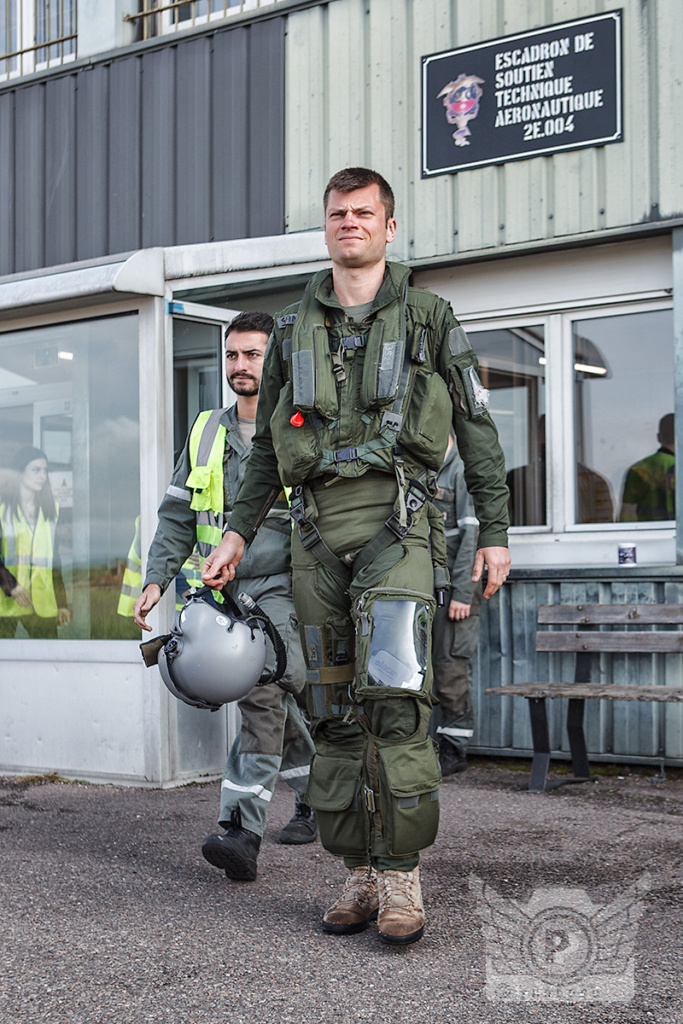 Another convenient option for the Cigognes is nearby Switzerland with "Big opportunities" as Lois calls it; "We play a lot with them either inside the French areas or even in the South over the Alps. Very interesting because we train here with the mountains above the [cloud] deck, which is not so familiar for us.". Other allies they meet up with regularly are both the German and Belgium Air Force in the TRA (Temporary Reserved Airspace) 200/205 approximately 15 minutes North from Luxeuil. "Very interesting to fly with guys who have different techniques, tactics and other ways of playing missions" as Commander 'Tomé' puts it; "We have a lot of opportunities here with neighboring countries.".
Gamechangers
Prominent 'new kid on the block' in Europe is the Lockheed Martin F-35 Lightning II, as several countries have now welcomed this new fighter and others placed their orders. The answer to the question if the Cigognes ever train with any of them is "From time to time, but not too often yet" Lois clarifies; "Last year we had a training event in Mont-de-Marsan Air Base where the F-35 came from both the UK and the U.S. as well. And we will meet them during the ACE (Arctic Challenge Exercise) training next week. They are the primary training agents.". He is looking forward to work with this fifth-generation aircraft.
On the capabilities of the F-35, Commander 'Tomé' states: "I think it's a game changer, clearly. The F-35 is a different fighter than ours." He cannot go into details on how to fight against it, but mentions some challenges; for instance, how to determine their position: "When we train against them or with them, it's quite different because they use what are called 'radar reflectors', so they have a bigger radar footprint. We can see them further ahead than what we should do in war time. Clearly a different way of fighting with our aircraft against the F-35!".
The warfare doctrine of the French defense forces is changing as new technology emerges. Extended long-range missiles for instance demand a new approach towards tactics and targeting assets. Same applies to the advanced AESA (Active Electronically Scanned Array) antenna. With 'an old version air defense fighter' as Lois puts it "We have to focus on their drawbacks … think more as a radar.". Be smart in using the terrain to your advantage and choose either Fox 2 or Fox 3 missiles wisely.
Smart training
New pilots joining the Cigognes have a big advantage now opposed to the older generation; a better foundation due to the Pilatus PC-21 advanced trainer. This turboprop-powered aircraft has been gradually replacing the Socata TB-30 Epsilon and Alpha Jet with the French Air Force since 2018. The best features are a fully digital glass cockpit, Head-Up Display (HUD) and the HOTAS philosophy to enhance simplified and efficient controlling. These all resemble equipment used in modern combat aircraft; thus, student pilots are already familiar with their next 'office' and training is much more realistic.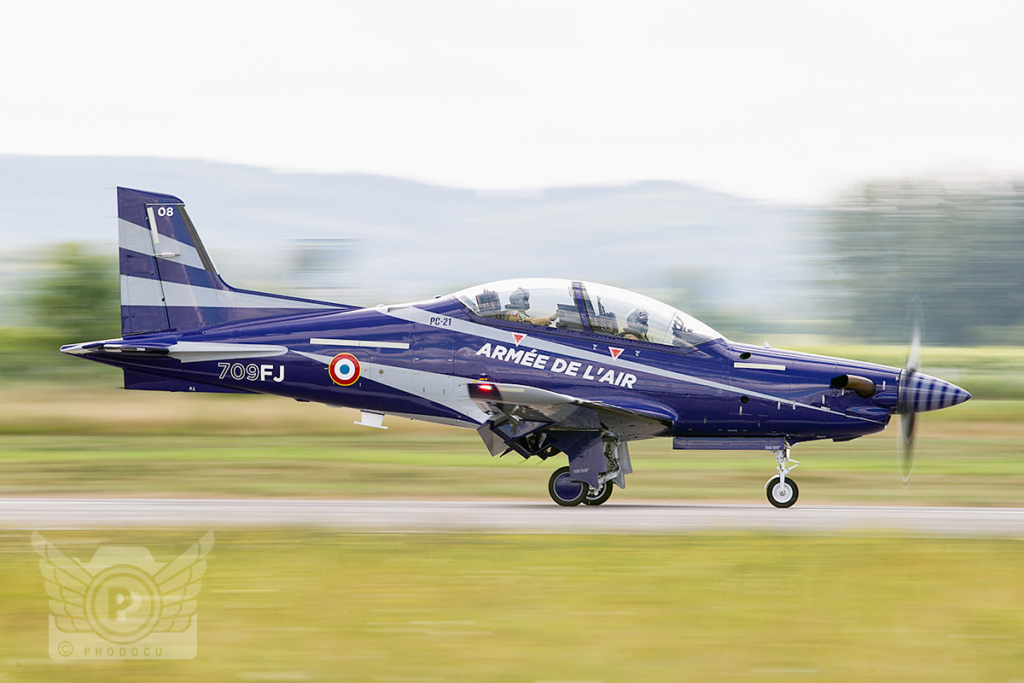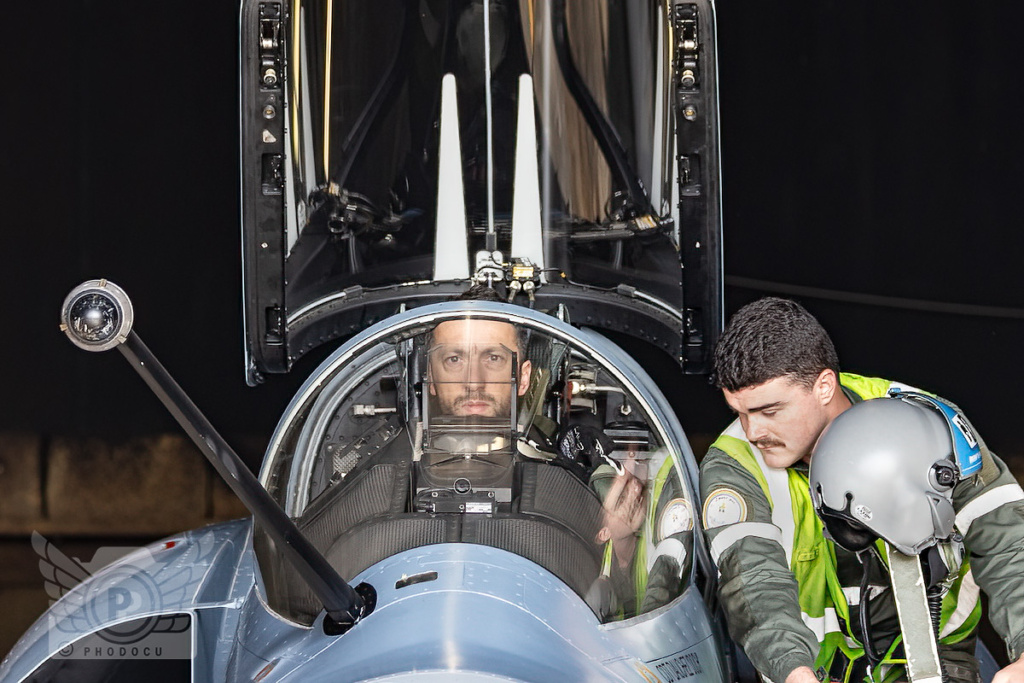 That is a huge step forward in efficiency. Commander 'Tomé' adds: "They are training more in air-to-air than what we have done … already know how to fight 1v1, 2v1 missions. When I arrived there, I had no idea on these parts of BVR (Beyond Visual Range) missions. We are not wasting time … so we can be quicker to take them up to become combat ready pilots.". But he also expresses his concern: "We have to be careful on the knowledge of the system. We can't compress the time spent on the basics.". The pilots still need to learn a lot about the systems of the Dash 5; how to work with the radar, utilize the electronic warfare on the aircraft etc..
New simulator
The pilots with Escadron de Chasse 1/2 aim to fly 180 hours per year. The remainder of training is done in the simulator. These is a so-called 'legacy simulator' on base, which is two cockpits linked together. It can simulate a lot of threat situations, but also comes with some limitations: it is not an exact copy of the current Dash-5 cockpit layout and some features are lacking such as the NATO standard Link 16 communication system.

Therefore the unit is developing a new platform in conjunction with Defense Headquarters (DHQ). It is called SMR (Simulation Massive en Réseau), which translates to Massive Network Simulation and is based on the commercial Digital Combat Simulator (DCS) software. "We have made a full Mirage design there to be linked with other platforms; the GCI (Ground-Controlled Interception), with the AWACS and so on." Commander 'Tomé' explains excitedly. The system allows for training together and generating whole thread scenarios. Without sharing classified information, the simulator can help train the pilots in fighting against a wide array of air-to-air missiles and adversaries.
Adapt and resolve
On average the flight time / maintenance ratio is 1 to 15 hours, which is reasonable considering the Dash-5's airframe is nearly 35 years old. The maintenance division is working closely with Flight Operations to ensure availability of the jets when needed. The supply of spare parts is very critical in the whole process and that has recently been changed to a so-called 'verticalized support'. "Dassault is responsible for the spare parts" Lois mentions about this contractor arrangement; "And for the moment it's effective as we have no drop of availability of spare parts.".

On the other hand, the aircraft itself does produce quite some technical challenges from time to time. "We have new kind of failures that we didn't have in the past." Commander 'Tomé' clarifies; "With electrical interference between cables and so on. So, the mechanics are taking more time to solve the problem.". This means coordination between them and the Chief of Operations is crucial. Critical issues on the aircraft need to be addressed immediately, while other complications may be resolved by scheduling hangar time at a more convenient time. Other factors are also at play; operating the aircraft in harsh environments, inexperienced young mechanics having to deal with an ageing aircraft, etc.. Resourcefulness and flexibility are key.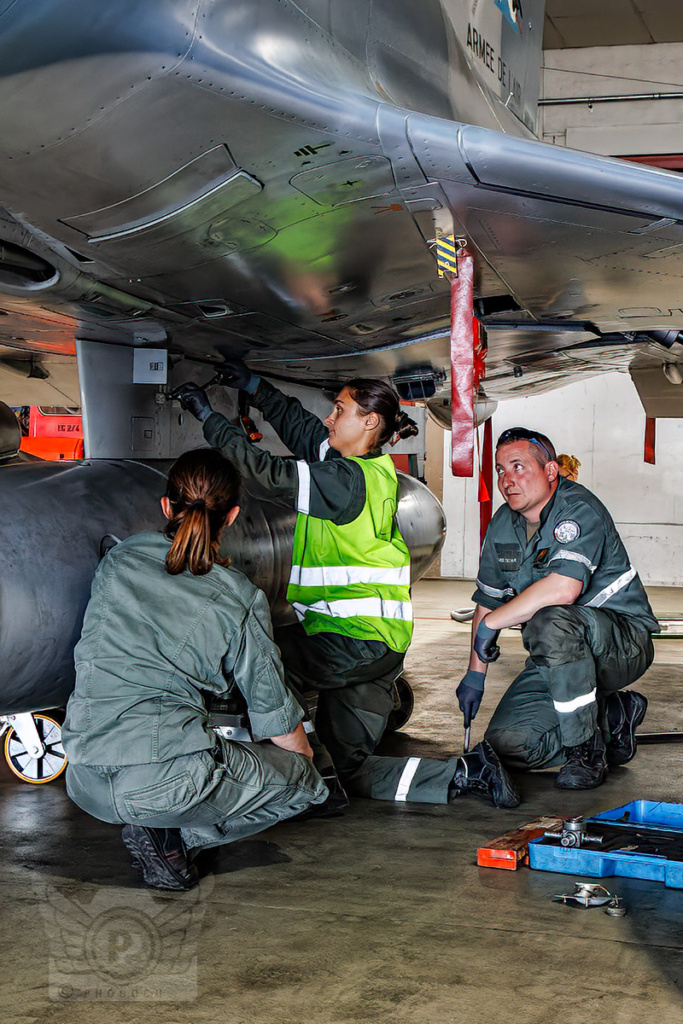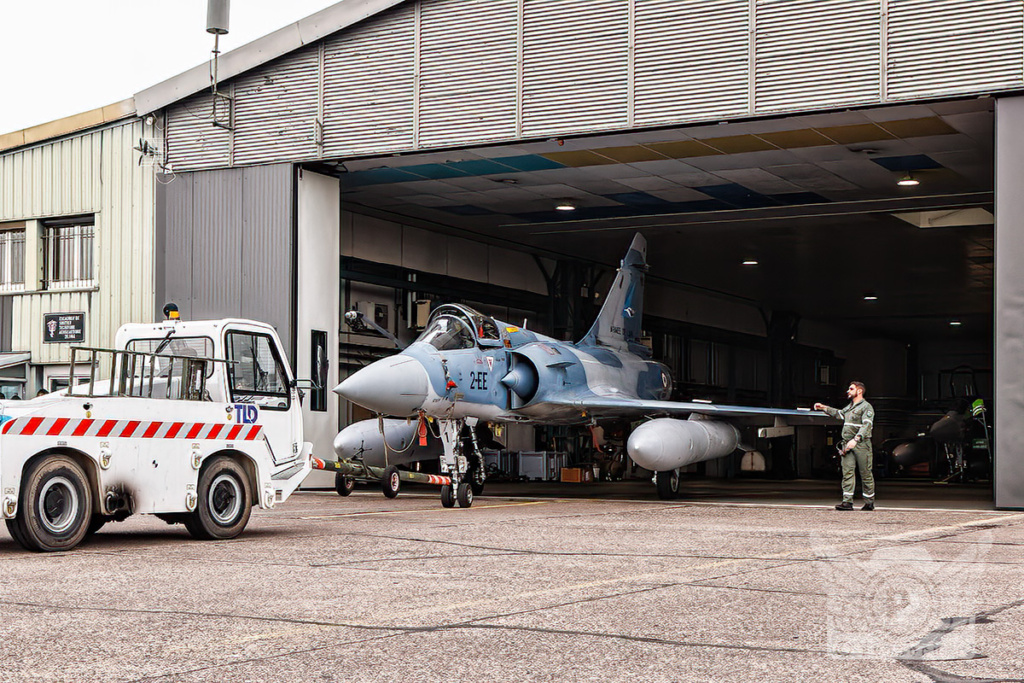 Future plans
The end of life for the Dash-5 is set for 2028, followed by a transitioning period in which by 2032 the Cigognes should have completed their conversion to the Rafale F4, the latest version of this multi-role fighter. Prior to its retirement, their Mirages are not scheduled to receive any major updates. There will be an upgrade for Link 16 by Lois referred to as 'BU Deux', which is short for 'Block Upgrade 2' bringing new crypto capabilities. Most other changes will only affect the software, among which updates to enhance the use of radar and counter jamming proficiencies.
With the arrival of the Rafale, the unit will lose their dedicated air defense role and convert to a multi-role asset. Apart from new infrastructure at Luxeuil Air Base, the biggest change will be their broadened tasking. The question arises that by gaining air-to-ground capabilities, one will perhaps also lose some air-to-air proficiency? A 'very relevant question' according to Commander 'Tomé'; "If you are flying 180 hours per year only performing air-to-air missions, you are an expert in that domain. However, the Rafale is different from the Mirage 2000 … it's easier to be multi-role in an aircraft which is designed for it.". The interface design in the aircraft compensates for the pilot's increased workload. In seconds one can switch from air-to-air into air-to-ground mode and back again. Together with an excellent training program, both in the air and on the ground, Lois has no concerns: "I'm not afraid of losing any capabilities for these missions.".
Close to the operation
In the meantime, the unit will continue to operate the Mirage 2000-5F to the best of its abilities. Currently at roughly 1,700 flight hours, Commander 'Tomé' hopes to reach the 2,000 marker on this type before it will be retired. "I am what we call a 'Baby-5', because I only flew the Dash 5." he states. Lois has been part of the Cigognes for over 12 years now in which he worked his way up to mission commander, SPA 26 leader, Chief of Operations and now Squadron Commander. Currently at the rank of Commandant (French equivalent of NATO OF-3 Major), his next assignment is to become Wing Commander here at Luxeuil in the summer of 2023, succeeding Lieutenant-colonel Mathieu 'Bartab'. Although this promotion will also entail a reduced amount of flying, from 180 to 80 hours per year, Lois will remain OPS-capable to support QRA etc.. Being a career officer, he spends a total of 27 years in the Air Force and has a clear view on his future goals: "My objective is to stay close to the operation.". A logical next step for him would be attending War College for a year. Eventually, ending up with a position at CAPCO (Centre Air de Planification et de Conduite des Operations), in charge of the operations of the Air Force, would be the ultimate job for him. At only 38, Commander 'Tomé' still has a whole career ahead of him and will continue to lead the way for the Cigognes in expanding their legacy.
PAST 'CIGOGNES' SPECIAL PAINT SCHEMES
Additional photos

Acknowledgement
Phodocu would like to thank Commander Lois 'Tomé', personnel of Groupe de Chasse 1/2 'Cigognes' and Base Aérienne 116 Public Affairs for their hospitality and support.